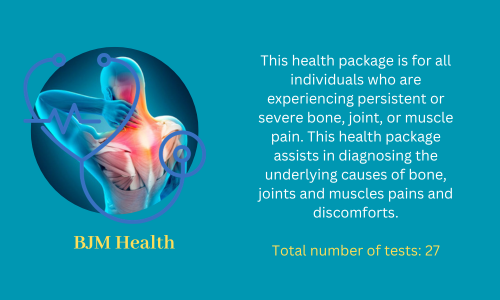 This health package is for all individuals who are experiencing persistent or severe bone, joint, or muscle pain. Diagnosing musculoskeletal issues can sometimes be complex, as symptoms can overlap and can be caused by various factors. Tests in this health package is designed to assist in diagnosis of the underlying causes of bone, joints and muscles pains and discomforts.
Offer Price : Rs.7480.00
Method:    Spectrophotometry, CMIA, Microscopy, Nephlometry, Coulter Auto, Immunochromatography and ISE
Parameters: CBC, Calcium, Vitamin D, RA Factor Quantitative, Uric Acid, ESR, CRP Quantitative, Complement3 (C3), Complement4 (C4), Magnesium, Phosphorus, Sodium, Potassium,
CK – NAC, ANA Qualitative, Thryoid Profile(FT3, FT4, TSH)
Specimen:      5ml. Serum in a SST (Gel Barrier Tube), Whole Blood in EDTA vial (Purple Head Tube)
Reported On:      Next working day by 7:00 p.m.
Special Instruction:    None